Associate Veterinarian
Hickory Veterinary Hospital Team Member Since 2017
Dr. Erin McCourt is a 2017 graduate from the University of Florida College of Veterinary Medicine. She has practiced in Northern Maryland since graduation and joined Hickory in July 2018. Originally from upstate New York, she obtained her undergraduate degree from Cornell University in 2012 with a focus on Animal Science and Entomology (study of insects).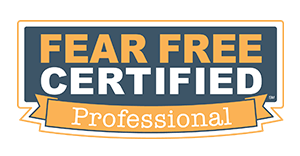 Dr. McCourt has worked with a variety of animals both large and small, and while she fondly remembers her days working with dairy cows and birds of prey; one of her favorite things about veterinary medicine is the bond between pets and their people. Her other areas of interest include veterinary dentistry, behavior, feline medicine, and preventative medicine. Dr. McCourt especially enjoys helping owners come up with unique and novel approaches to keep their pets healthy.
In her free time, Dr. McCourt enjoys training and competing with her Doberman Atlas, cooking and gardening, and spending time with her friends and family.