Owner & Veterinarian
Hickory Veterinary Hospital Team Member Since 2004
Dr. Claire McNesby graduated from Furman University in South Carolina with a Bachelor of Science in Chemistry in 1990. She then moved to Maryland from her family home in Atlanta, Georgia. She was in the Army Ordnance Corps and attained the highest rank of Captain before she retired. She also worked as a civilian employee at the Army Research Laboratory on Aberdeen Proving Ground for 4 years as a chemist before deciding to pursue a career in veterinary medicine.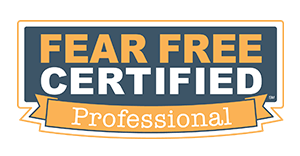 Dr. McNesby attended the University of Pennsylvania School of Veterinary Medicine and graduated in 1998. After graduation, Dr. McNesby participated in a small animal medicine and surgery internship in Sacramento, California for 1 year. After her internship, she returned to Harford County and worked at various small animal practices providing veterinary relief services before she quickly committed to emergency medicine, working in emergency veterinary medicine for nearly 6 years.
She became a partner at Hickory Veterinary Hospital in 2004 and started working here in 2006. Dr. McNesby enjoys behavior, internal medicine, and wellness care. She especially enjoys the intellectual challenges of oncology cases as well as the close relationships that form between patient/owners and doctors while treating the oncology patient. In addition to her regular duties at Hickory Veterinary Hospital, she has been providing care for cancer patients and their owners, including various chemotherapy treatments, for the past 10 years.
Dr. McNesby is settled in Harford County with her husband, Kevin, and their three girls. In her free time, she enjoys supporting her children's various athletic and artistic endeavors. In addition to enjoying her children, Dr. McNesby enjoys gardening, reading, shopping for antiques and various outdoor activities.